Whether your company is composed of a few or dozens of employees, there are a few basic considerations to keep in mind when looking for the ideal small to large business communications system. In today's connected world it is important to seek an all-in-one VoIP-based voice and data solution. In addition, the system should provide all the features and functionality required to effectively enable you to communicate with your clients. Finally, the system should be robust enough to match small business needs, yet one that can grow with your business and provide unsurpassed functionality to help your business succeed.
A powerful yet easy to manage voice, video, data, and mobility communications platform has never been more achievable than when anchored with Grandstream's series of UCM IP PBXs. The UCM series of IP PBXs offer an extensive set of unified communication features in an easy-to-manage on premise solution with no licensing fees, upgrade fees or costs per features. Our UCMs range from small and medium business deployments to small and medium enterprise solutions.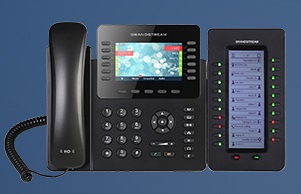 Developing a powerful solution that is customized for every individual streamlines communication and workload efficiency. Grandstream makes state-of-the art telephony devices more accessible and easier to deploy than ever before. Take a look into our wide range of telephony endpoints and construct the perfect network with Grandstream, today.
---
All-in-One VoIP Phone System Solutions
---

Tadiran offers powerful, yet simple and cost-effective off-the-shelf standalone pure IP communications solutions for small businesses, branch office environments, and the SMB market. Our compact, all-in-one standalone systems boast the functionality of larger, enterprise-class systems, incorporating dynamic call-handling and intelligent call-routing, IP capabilities, and a comprehensive suite of telephony features. These plug-and-play systems are easy to install and can be optimally configured to meet your business needs. All-inclusive by design, they merge our legendary wealth of sophisticated capabilities with the latest state-of-the-art technologies, providing advanced, flexible applications that improve your company's competitive edge. And as your business needs grow, our scalable modular architectural design allows you to upgrade to larger systems while retaining your investment, including system software, programming, and all station equipment.
Benefits
All telephony features, interfaces, and applications of larger Tadiran communication servers
Support for 3rd party SIP trunks and SIP devices, including phones, softphones, and video phones
Seamless interaction between IP and non-IP endpoints
Built-in integrated voicemail and Unified Messaging module (optional)
ROBO/SOHO solutions enabling remote users to be reached and access the same features as from the main office
Powerful tools for dealing with IP security issues